Overview
Adult-acquired flatfoot or collapsed arch occurs because the large tendon on the inside of the ankle - the posterior tibial tendon - becomes stretched out and no longer supports the foot?s arch. In many cases, the condition worsens and and the tendon thickens, becoming painful, especially during activities. Flatfoot or collapsed arch is also known as posterior tibial tendon dysfunction. This condition is different than having flat feet since birth (known as congenital flatfoot), although sometimes these patients develop similar symptoms and require similar treatments.
Causes
There are multiple factors contributing to the development of this problem. Damage to the nerves, ligaments, and/or tendons of the foot can cause subluxation (partial dislocation) of the subtalar or talonavicular joints. Bone fracture is a possible cause. The resulting joint deformity from any of these problems can lead to adult-acquired flatfoot deformity. Dysfunction of the posterior tibial tendon has always been linked with adult-acquired flatfoot deformity (AAFD). The loss of active and passive pull of the tendon alters the normal biomechanics of the foot and ankle. The reasons for this can be many and varied as well. Diabetes, high blood pressure, and prolonged use of steroids are some of the more common causes of adult-acquired flatfoot deformity (AAFD) brought on by impairment of the posterior tibialis tendon. Overstretching or rupture of the tendon results in tendon and muscle imbalance in the foot leading to adult-acquired flatfoot deformity (AAFD). Rheumatoid arthritis is one of the more common causes. About half of all adults with this type of arthritis will develop adult flatfoot deformity over time. In such cases, the condition is gradual and progressive. Obesity has been linked with this condition. Loss of blood supply for any reason in the area of the posterior tibialis tendon is another factor. Other possible causes include bone fracture or dislocation, a torn or stretched tendon, or a neurologic condition causing weakness.
Symptoms
Posterior tibial tendon insufficiency is divided into stages by most foot and ankle specialists. In stage I, there is pain along the posterior tibial tendon without deformity or collapse of the arch. The patient has the somewhat flat or normal-appearing foot they have always had. In stage II, deformity from the condition has started to occur, resulting in some collapse of the arch, which may or may not be noticeable. The patient may feel it as a weakness in the arch. Many patients initially present in stage II, as the ligament failure can occur at the same time as the tendon failure and therefore deformity can already be occurring as the tendon is becoming symptomatic. In stage III, the deformity has progressed to the extent where the foot becomes fixed (rigid) in its deformed position. Finally, in stage IV, deformity occurs at the ankle in addition to the deformity in the foot.
Diagnosis
Your podiatrist is very familiar with tendons that have just about had enough, and will likely be able to diagnose this condition by performing a physical exam of your foot. He or she will probably examine the area visually and by feel, will inquire about your medical history (including past pain or injuries), and may also observe your feet as you walk. You may also be asked to attempt standing on your toes. This may be done by having you lift your ?good? foot (the one without the complaining tendon) off the ground, standing only on your problem foot. (You may be instructed to place your hands against the wall to help with balance.) Then, your podiatrist will ask you to try to go up on your toes on the bad foot. If you have difficulty doing so, it may indicate a problem with your posterior tibial tendon. Some imaging technology may be used to diagnose this condition, although it?s more likely the doctor will rely primarily on a physical exam. However, he or she may order scans such as an MRI or CT scan to look at your foot?s interior, and X-rays might also be helpful in a diagnosis.
Non surgical Treatment
This condition may be treated with conservative methods. These can include orthotic devices, special shoes, and bracing. Physical therapy, rest, ice, and anti-inflammatory medication may be prescribed to help relieve symptoms. If the condition is very severe, surgical treatment may be needed.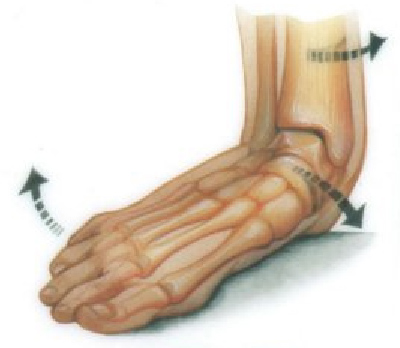 Surgical Treatment
Good to excellent results for more than 80% of patients have been reported at five years' follow up for the surgical interventions recommended below. However, the postoperative recovery is a lengthy process, and most surgical procedures require patients to wear a plaster cast for two to three months. Although many patients report that their function is well improved by six months, in our experience a year is required to recover truly and gain full functional improvement after the surgery. Clearly, some patients are not candidates for such major reconstructive surgery.